I'm a Chicago Bulls fan. I grew up during the age of Jordan. MJ, Pippen, B.J. Armstrong, and Dennis Rodman made me fall in love with the game. As a child, I sat alone in front of our television, curled up in my favorite rocking chair and watched the first Three-Peat. It was magical to watch that trophy hoisted into the air by the greatest basket ball player of all time. That trophy, while won by a few men, felt like an entire city's; it felt like mine. To this day, the Bulls are the only team I have loved my entire life.
Of the many things my husband and I have in common, the love for this team is one of my favorites. I vividly remember when the Bulls won the first pick in the NBA draft in 2008. Michael informed me that the odds were against us, yet somehow, kismet took over and Derrick Rose joined our team. A quiet kid from the Southside, the future of the Bulls dynasty would come rest on his shoulders.
Fast forward to present day. In three short years, Rose was named the youngest MVP in league history and has lead the Bulls into a competition for the Eastern Conference title against the loathed Miami Heat.

(I have my own opinions about LeBron James and his cowardice, however I won't discuss them at this time.)

For the first time in thirteen years, the possibility of a world championship is here.
Truly though, as a fan, I couldn't be more thrilled or proud. This Bulls team defines humility and perseverance. While Rose is our superstar, we fans love the entire team. We cheer for Joakim Noah, (a player who has received his share of heckles), Carlos Boozer, Keith Bogans, and Luol Deng, and we're proud of our Bench Mob (Korver, Gibson, Brewer, Watson, Thomas and Asik).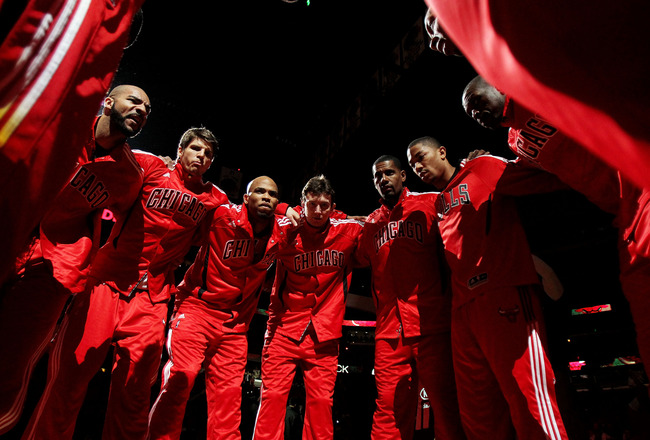 While I know we're down one game in this series, I haven't been this proud to be a Bulls fan in years. We have stand-up guys who play as a team, and they're making the whole city See Red!